When acclaimed Saudi artist Abdulnasser Gharem opened his first solo show in New York City last week, it closed the circle on a story that began more than two decades ago on Sept. 11, 2001, and the wars and chaos that followed.
The 49-year-old Gharem, a seminal figure in and pioneer of Saudi Arabia's contemporary art scene, hopes his exhibition Hospitable Thoughts, at the Marc Straus Gallery through Oct. 16, will spark a "new cultural dialogue."
As he writes in his artist statement, "The West is comforted by the presence of border blockades, assuming that violent incidents do not happen to them, or that they only happen to the faraway others, attempting what is called social sterilization, as in (a society without strangers). The phrase (go home) and the enactments by some countries of laws opposing good hospitality contradicts the concept of 'universal hospitality.' For it is not a charitable act, but rather the right of every stranger to not be treated as an enemy."
Gharem remembers where he was on that fateful day 21 years ago that made the West much less hospitable to Muslims and migrants in general.
"I was watching TV with my family in Abha," he recalls over a WhatsApp video call from his home studio in Riyadh, referring to his hometown and the capital of the Asir region in the south of the kingdom. "It seemed so surreal. Then they started saying the names of the terrorists, and I realized I went to high school with some of them. They were my friends and neighbors."
"They were so smart," he continues, pausing only for another puff of the Marlboro Red cigarettes he chain-smokes, seated at his desk in front of an impressive library of books on contemporary art. "They were the best at school and from rich families. It was a shock. They disappeared for a while, but we thought maybe they moved to another city. We had no idea they went to Afghanistan for training."
The first thing he remembers thinking, he says, was, "Why wasn't it me? We had the same education and environment. It was like a kind of awakening for me."
In fact, it may well have been art that saved the young Gharem.
"I was lucky because in the late 90s the internet appeared," he relates. "Suddenly, I had a whole new source of knowledge and I was obsessed with art."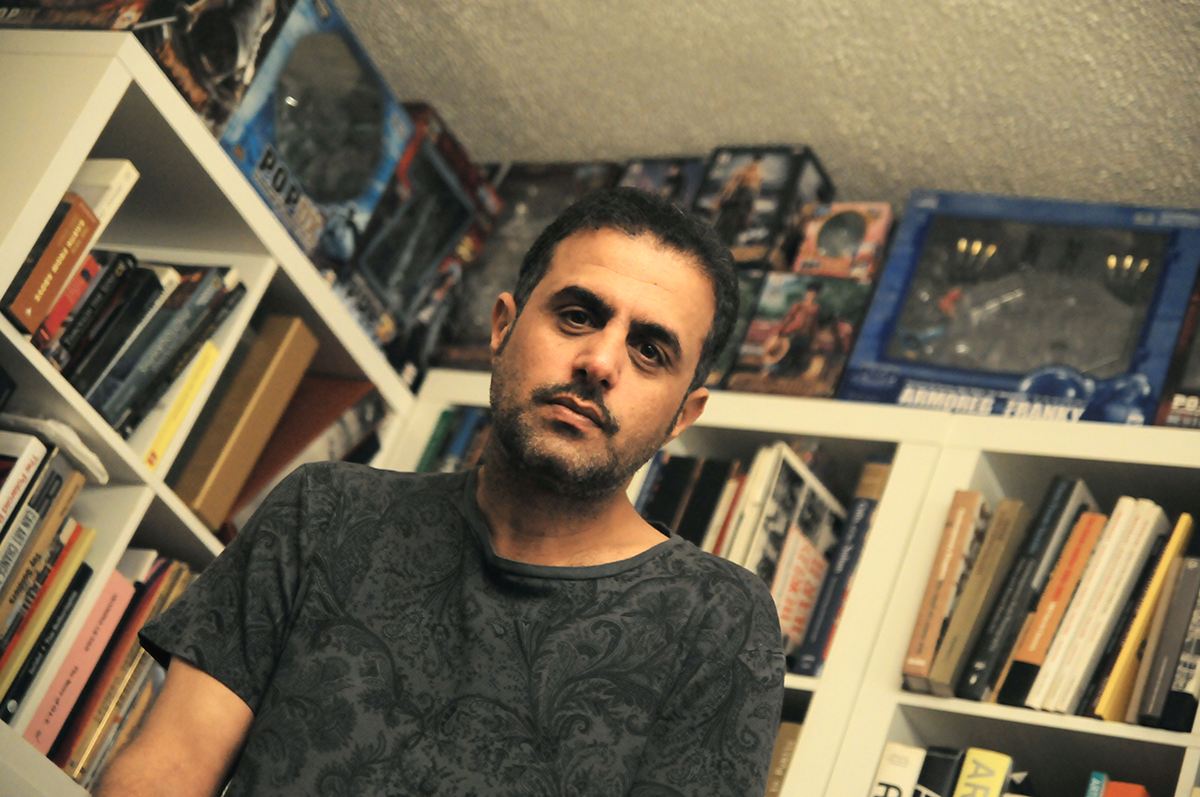 And yet, Gharem, whose career as an artist is a delicate dance between critical acclaim abroad and censorship at home, was foiled at every turn as a talented young student.
"Being an artist in my hometown was considered a kind of scandal," he says. "You could be an artist in Jeddah perhaps, but not in Abha." The city of 1 million, high up in the Asir Mountains, is known for its proximity to the Asir National Park and its traditional culture.
"I remember in school we were controlled by a conservative ideology. If you wanted to get better grades, then you needed to participate in their agenda. I was like a double dealer. I played the game so I could pass."
Before industrialization and the advent of the oil industry, he says, the atmosphere was "less extremist." "Before, people in the area were farmers. The sexes mixed together in a hospitable, traditional culture."
But during the 1970s and 1980s, when Gharem came of age, "It was easy to brainwash the children. The mosque, the neighborhood, everyone was pushing us in that extremist direction or path."
Gharem views the Wahabbist project as a response to other projects in the region — including Egypt's Arab nationalism and the Iranian Revolution.
All his art teachers were foreigners, he recalls, from places like Palestine and Sudan. Luckily, an Egyptian instructor saw Gharem's talent early on and encouraged his family to let him go to the al-Muftaha art village in Abha. Young Gharem's visit to the art village, founded by the governor of the southern region, Saudi prince and artist Khaled al-Faisal, within an existing 19th century village, was a revelation.
It was his first exposure to foreigners, he relates, and on his inaugural visit in 1988 he remembers meeting the then Prince Charles. "He had his own studio where he painted watercolors." Not only was it Gharem's first time in the presence of British royalty, but also the first time he had seen watercolors and he remembers being fascinated by the technique.
"Visitors came from all over the world," he recalls. "Prince Khaled was trying to create an art school in one of the most conservative places. There was some resistance from locals, but other people loved it."
The experience convinced the young Gharem that he wanted to be an artist. But when he tried to get into an art program at a local college, he failed. "You had to draw something as a kind of 'audition,'" he recalls. While other prospective students drew traditional landscapes, Gharem decided to draw a portrait of the teacher who was interviewing him. For his efforts, he received a lecture that portraiture was haram, or forbidden.
In the end, like so many of his family and friends in the southern region full of American bases, he pursued a career in the military, rising to the rank of lieutenant-colonel. After 23 years in the Saudi army, he retired in 2013 to dedicate himself full time to making art and mentoring young artists, six of whom share space in his home studio. Now his Riyadh base has morphed into his own mini-art village. He calls it his majlis, the Arabic equivalent of a salon, where he holds regular film screenings, concerts, and recording sessions, and encourages "free and open dialogue."
"Freedom," he says, "starts in the mind."
Speaking in secret code
Gharem's unique combination of insider/outsider, patriot/dissident, and soldier/artist is used to great effect in his work. With an alchemist's sleight of hand, he fuses traditional craft with modern political commentary to produce artistic gold. Speaking in secret code — often literally using provocative phrases spelled backwards — he confounds would-be critics and lets viewers decipher his artistic intent.
His new exhibition offers both recent works as well as milestones from his career.
Although not included in Hospitable Thoughts, his first major work, Pause, was inspired by the events of September 2001 and marked his voyage into a new form he developed called "stamp art." It drew on his experience as an officer in the army, where he had to mark official documents with a stamp denoting approval for what was acceptable or the "right path."
As he notes, "The system did not have a human face, but it had created a stamp of disapproval. It can be very hard to defend yourself against this."
In a clever subversion of this kind of authoritarian officialdom, Gharem began to buy children's printing kits containing a small set of rubbery Arabic letters, numbers, and numeric functions, and eventually graduated to embedding messages in backwards Arabic and English script into his work. A key one in Pause, which he reprised in his 2016 iteration, Pause II, located just to the left of a golden arch straddling a diptych of rectangular towers and comprised of tiny rubber letter stamps in Arabic and English, are the words of Sandy Dahl, wife of Flight 93 pilot Jason Dahl, "If we learn nothing else from this tragedy, we learn that life is short and there is no time for hate." 
Gharem exhibited the work in his first exhibition in Saudi Arabia in 2003 at a private gallery in Jeddah, a group show with long-time friend and collaborator Ahmed Mater called Agreement. The same group went to London for the seminal Edge of Arabia show in 2008 at the Brunei Gallery in SOAS that travelled to Venice in 2009, Berlin in 2010, and Istanbul and Dubai in 2012. While the show gained international acclaim, it garnered criticism from conservative factions at home, and a 2012 show in Jeddah, called We Need to Talk, would be Gharem's last real exhibition in his homeland.
His 2017 solo show at the Los Angeles County Museum of Art (LACMA), which has one of the biggest collections of Islamic art in the world, was well received. But his exhibition at the Marc Straus Gallery in New York City is a kind of full-circle homecoming. The exhibition grounds his new work with three seminal works that marked his evolution as an artist: A silkscreen print of 2007's The Path — like many of his works a performance-based piece captured in video and photography, evoking both the tragic death of villagers in a 1982 deluge that washed out a bridge as well as the concept of individual choice about one's spiritual path, with the word siraat (meaning "the right path") spray-painted in his trademark visual trope of repetition; 2013's The Stamp, a giant phallus of an authority symbol, hand-carved with an embossed wooden face; and 2020's Prosperity Without Growth, a post-modern carpet woven of pixelated painted cells of stamps whose allegory of the dangers of religious authority is cloaked in the language of iconography.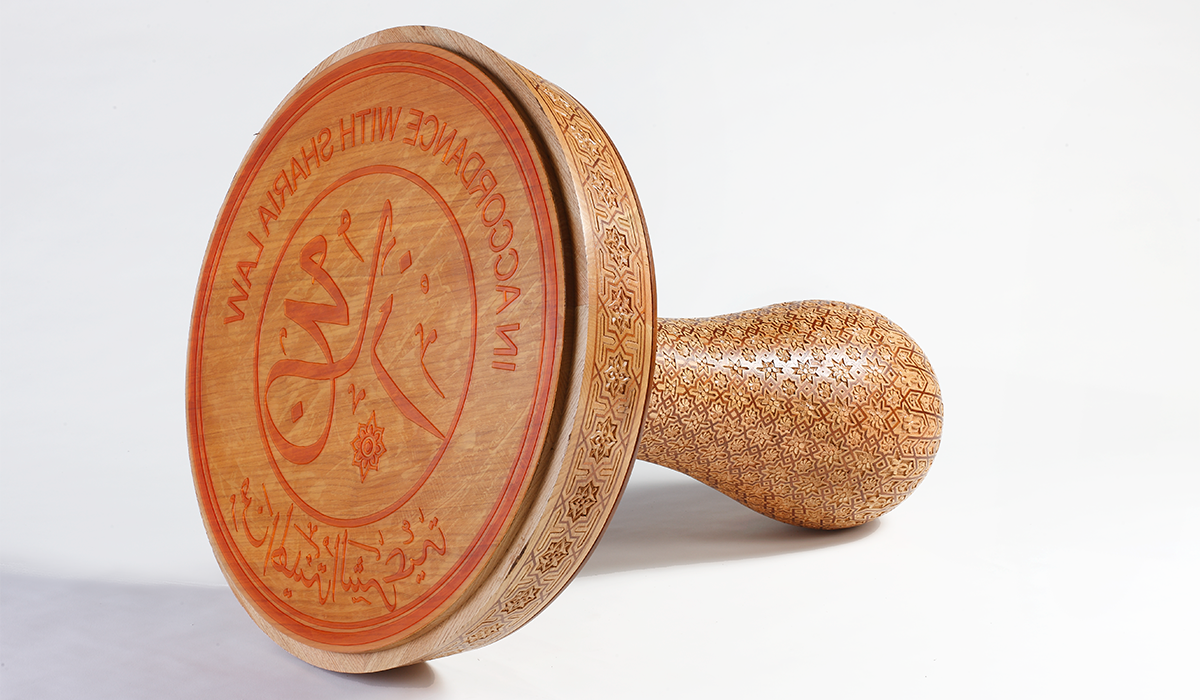 "The violence of economy"
Climate Refugee is a new work of lacquer paint on rubber stamps on aluminum featuring a map of the world, created around the time of the Russian invasion of Ukraine, but evoking the reality that "the largest marine cemetery is Europe." It reads like both an indictment of crimes against humanity and the earth — or what the artist calls "the violence of economy" (a backwards embedded message hovering near the Russian/Chinese border) — and a kind of digitally inspired tikkun olam, the Hebrew concept of "repairing the world." Well timed for our Anthropocene moment, the work reminds the viewer of the inexorable link between the destruction of war and environmental damage. Each piece of painted stamp is handmade and carefully executed and placed, like a giant jigsaw puzzle, evoking both miniaturism and monumentalism. Recalling old children's games like Battleship and Lego, it's a postmodern diorama of a ravaged earth.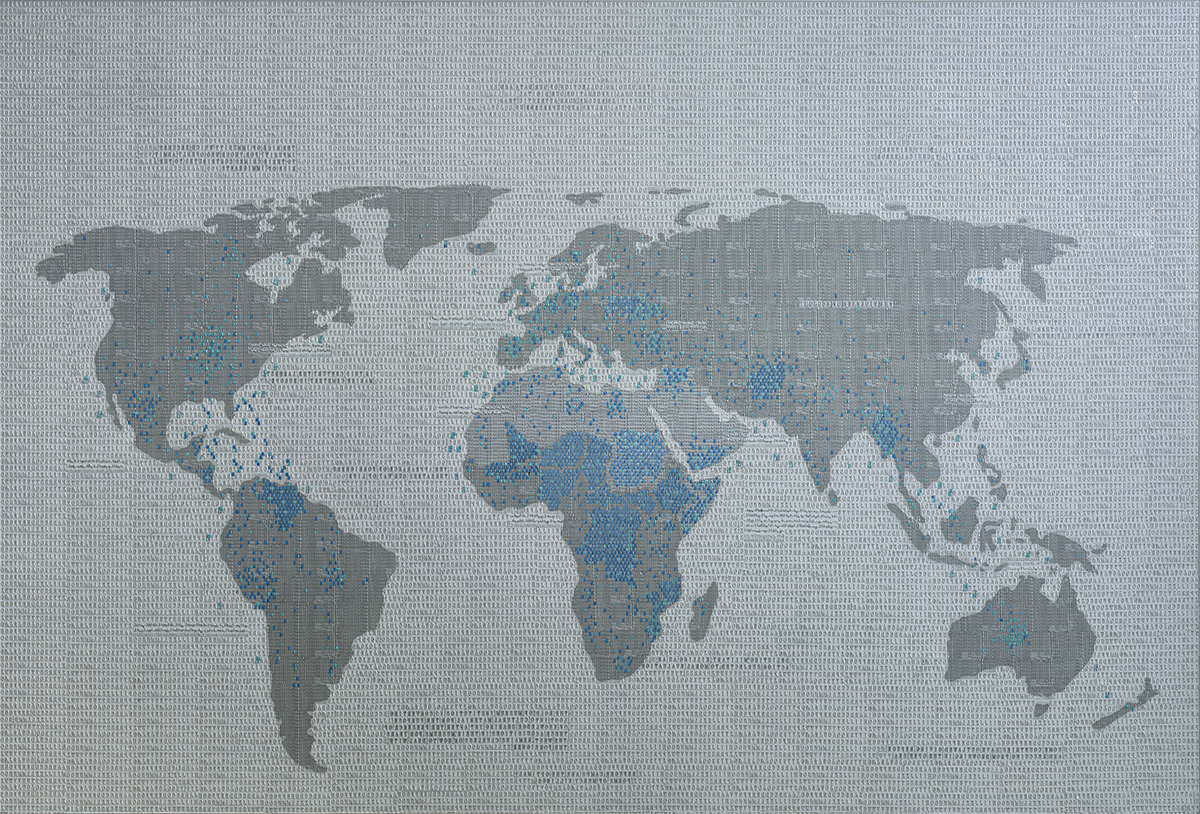 As Gharem writes in his artist's statement, "In this era, a decision may be issued that your life or the life of an entire nation is superfluous, and thus, no longer important. The latest war is the biggest proof of that. Globally, we are living in a period that is obsessed with demolition, production, and excessive hysterical violence. Violence aimed not only against humans, but rather against living organisms and species in general. The cause being the terrible harmony between war and the market — or what might be referred to as economic violence. Thus, the peoples who suffered this violence will turn into passersby, movement & mobilization will become their only chance of survival. Where they no longer believe in the slogan of reconstruction that is splattered on the surface of the planet after every war."
Gharem 2022's work Caged Humanity explores similar territory. Embedded with backwards messages such as "belittling the other," it too is inspired by the plight of refugees and migrants, including the words of a Syrian refugee woman commenting on the fence at the Turkish border, which she called "an imprisoned landscape." Here Gharem, who was also inspired by his time as a young recruit on the Yemeni border, takes back the fence, reappropriating it and infusing it with meaning; this is art as psychic self-defense.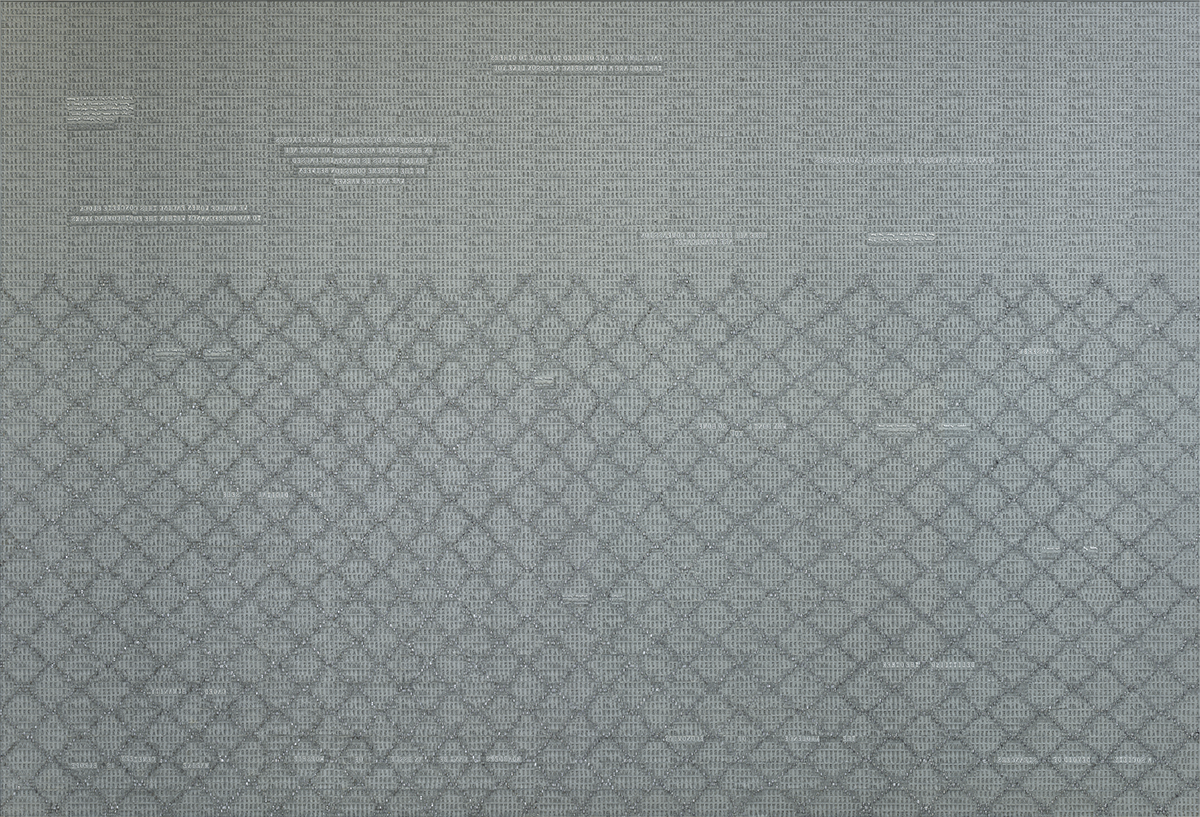 The 2022 diptych Don't Trust The Concrete in lacquer paint on rubber stamps on aluminum and the accompanying rubber stamps and industrial lacquer paint on 9-mm plywood board sculpture Concrete Block V 2022 are new iterations of a similar 2010-era work. Inspired by "the concrete walls of apartheid" from "Palestine to Berlin to South Africa to Iraq … and now to Europe stopping people at borders," the works are pixelated monoliths. Evoking both cuneiform stones and man-made barriers, they are both ugly and beautiful, ancient and modern, urgent and timeless.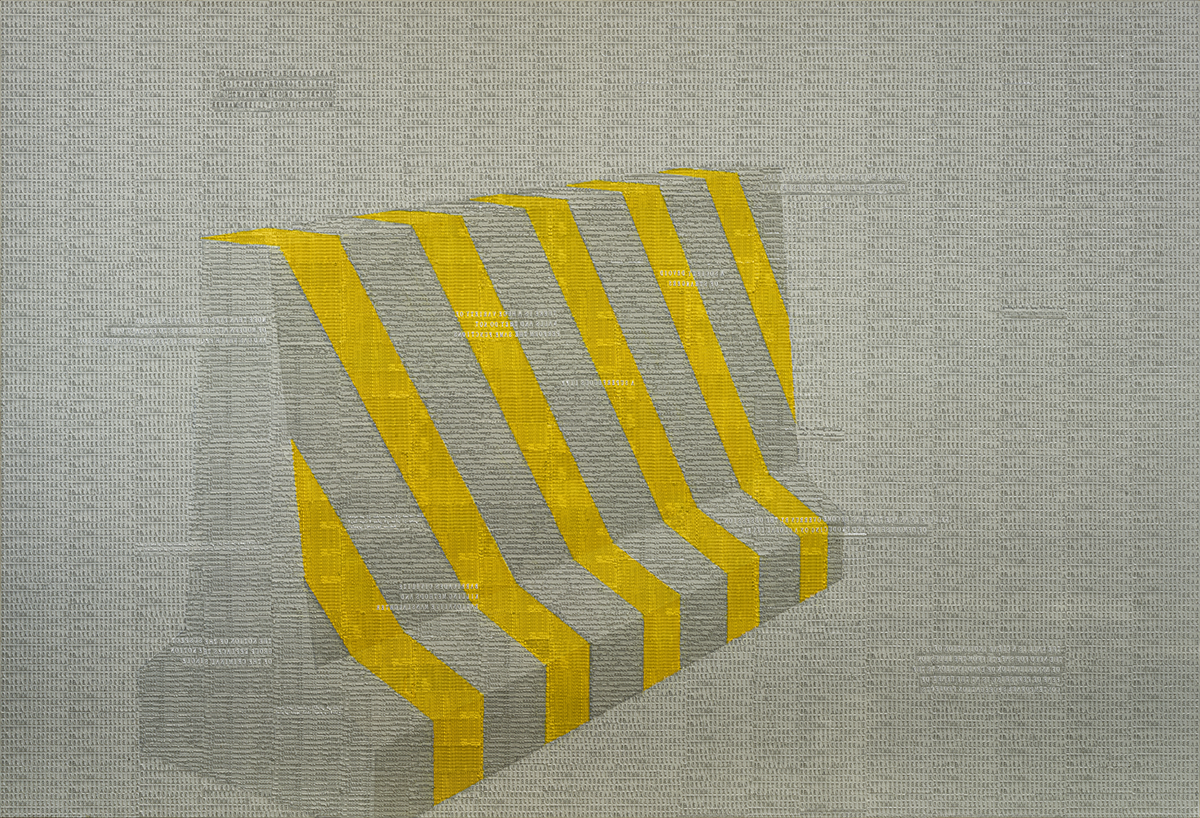 In this work the medium becomes the message — both the concrete blocks (which will "not protect you from ideology" says Gharem) and the stamp of officialdom that blocks migrants at borders from Mexico to Yemen.
"The medium is killing our people," he notes. "Such barricades are civilized killing methods and rationalize manslaughter. But I turned them into an art piece."
Participatory Surveillance, also from 2022 and comprising lacquer paint on rubber stamps on aluminum, is a brave new digital world meditation on power and control. Inspired by Jeremy Bentham's Panopticon, the work of Michel Foucault, the idea of the majority watching the minority, and even by the concept of God watching humans and judging them without being visible himself, it reads like a luminous lightboard with three floating windows suggesting a prison cell. Embedded with backwards messages like "the digital passerby," the work demands agency, refusing passive surveillance via participation in both the visual and narrative experience.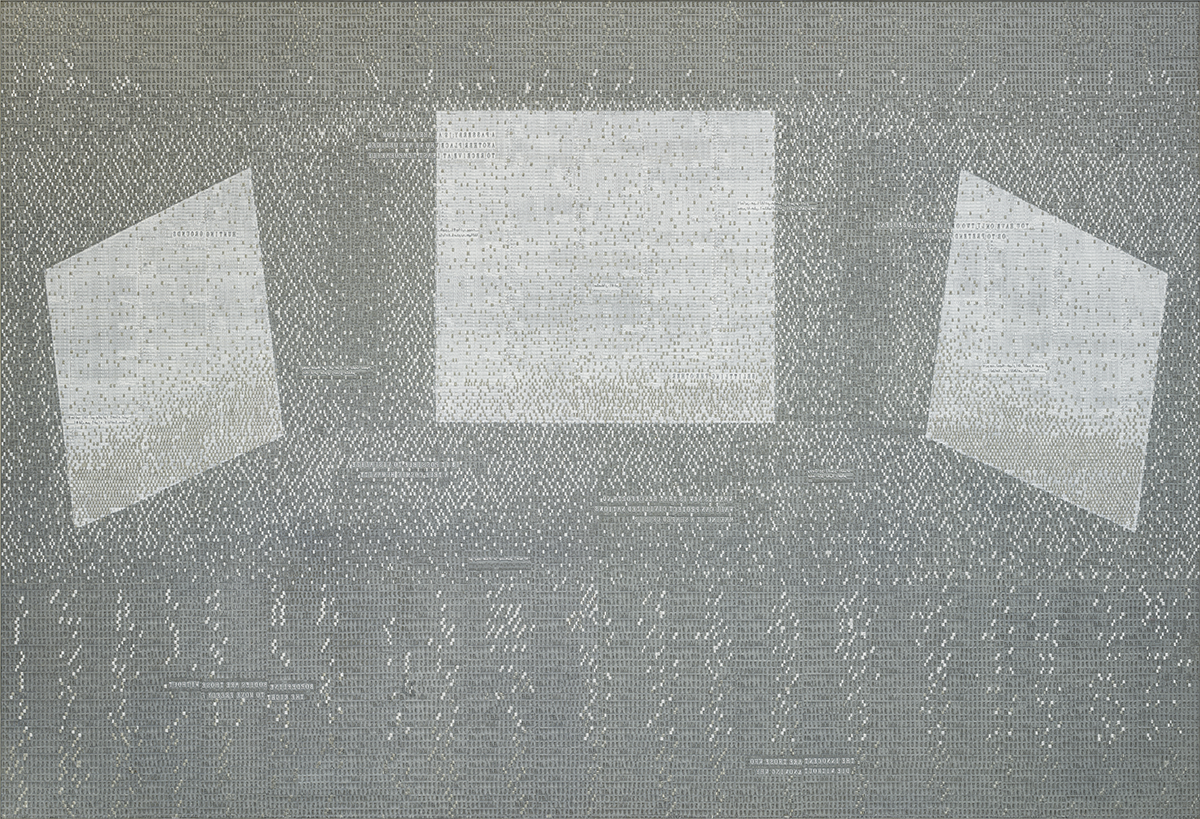 "I was inspired by the idea that via the ongoing tracking of data," notes the artist, "our digital identities have become more real than our actual selves." In the wake of the use of such surveillance for marketing and spying, he says, "You have only two options: to be obedient or to pretend to be obedient."
It is this very interplay between feigned acquiescence and reality that makes Gharem's work so compelling, and as the distance between the haves and the have-nots competes with that between the real and the fake, it is also what makes Hospitable Conversations such an urgently necessary exhibition.
Hadani Ditmars is the author of Dancing in the No-Fly Zone: A Woman's Journey Through Iraq, a past editor at New Internationalist, and has been reporting from the Middle East on culture, society, and politics for two decades. Her book in progress, Between Two Rivers, is a political travelogue of ancient and sacred sites in Iraq. The views expressed in this piece are her own.
Main image: 2007's The Path. Image courtesy of the artist.
---
The Middle East Institute (MEI) is an independent, non-partisan, non-for-profit, educational organization. It does not engage in advocacy and its scholars' opinions are their own. MEI welcomes financial donations, but retains sole editorial control over its work and its publications reflect only the authors' views. For a listing of MEI donors, please click here.